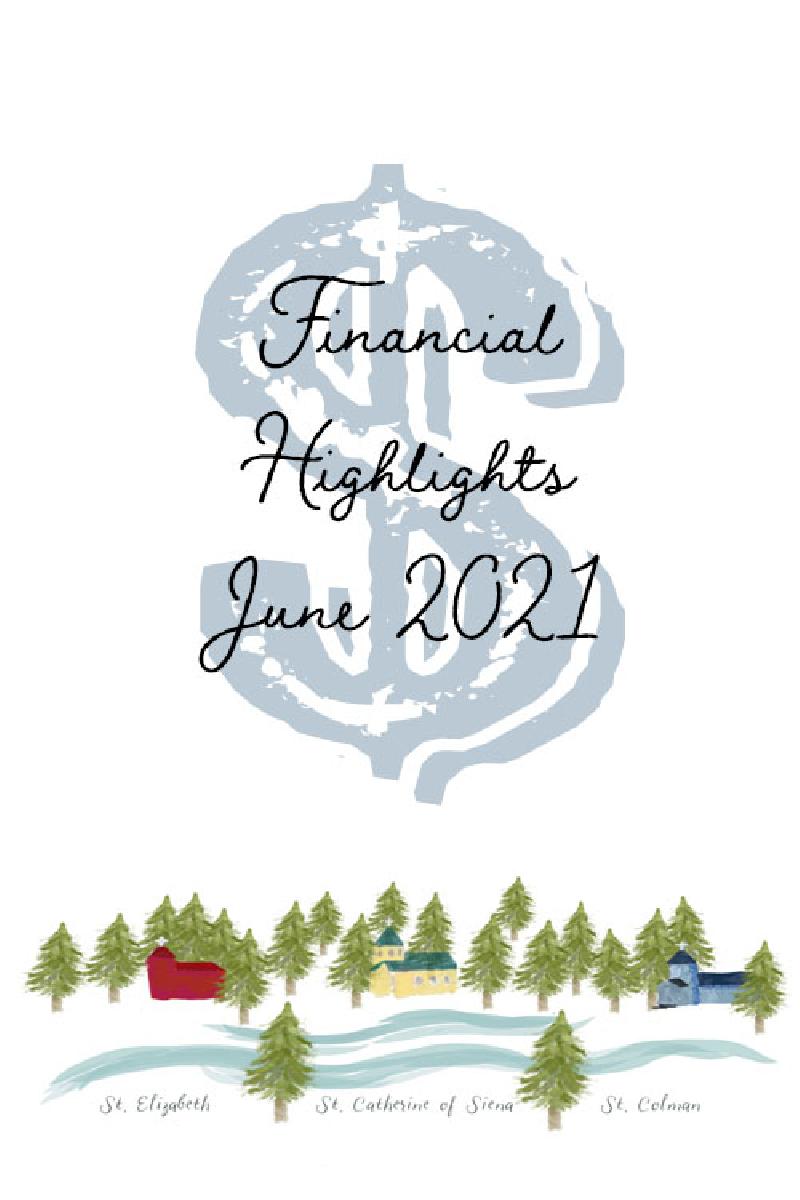 Financial Highlights
Dear Parishioners, 
Peace be with you.  Hope your summer is going well.
As you may know, we have made substantial progress in repairing/renovating our churches.  These efforts could not be done without the financial help from our parishioners, the Guilds of St Elizabeth and St Colman, special donations from the Bohemian Club, and the Fundraisers.  Thank you!
Substantial progress in repairing and improving our buildings, outdoor churches, and the rectory/office.  For our parish sites:
1. In The past few years a new roof for St Colman Church and St Hubert's Hall has been added.
2. Both St Coleman and St Elizabeth Churches both received new furnaces.
3. The outdoor church at St Elizabeth has had a major clean up with substantial brush removal.
4. The rectory/office has new computers, allowing the office to go digital (paperless).  Churchtrac was installed and is operational (more on that later).
5. Wifi was installed in St Elizabeth Church.  This allows mass to be streamed, as well as, allowing fundraising to take credit card information at the end of mass when there is a fundraiser.
6. Upcoming projects include pest control inspections for all our buildings.  We will distribute the findings to the parishioners when completed.
7. Tree clearing in the outdoor church at St Elizabeth is also being undertaken to ensure safety for all.
Again, thank you for all your generous financial help.
The Finance Council has reviewed and approved the Financial Highlights attached.  As you may recall, the financial records are kept on a fiscal year ending June 30th of each year.  So, these highlights are for the period: July1, 2020 to May 31, 2021, or 11 months.
Some interesting items:
1. Total Receipts (Donations, Fundraisers and other income) is up 21.6% over the same period last fiscal year.
2.  Total Expenses are down by 19.7% from the prior fiscal period.
3.  During this fiscal year, we started online giving.  This method of giving represents 27.35% of our total receipts.  This percentage appears to be growing.  
NOTE: Copies of the 11 month report were emailed to parishioners and friends of the parish. If you didn't receive a copy, check your account on StElizabeth.ChurchTrac.com to make sure your email is correct. If you would like a copy please submit your request to churchelizabeth@comcast.net.
Copyright &copy 2021 ChurchTrac Software, Inc.