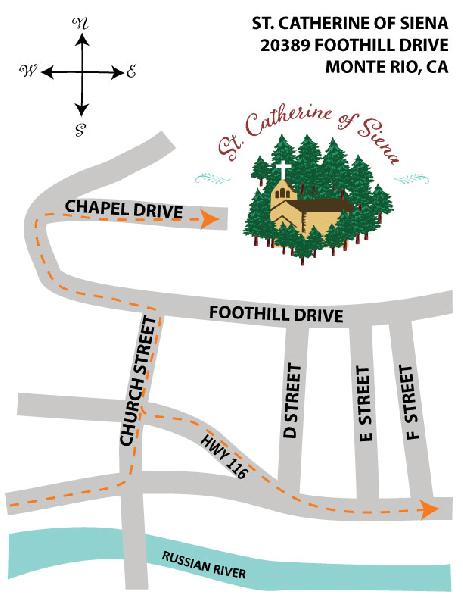 St. Catherine of Siena, Monte Rio
HISTORY: "Around 1910 or so a 'prominent' guest of the Bohemian Club, 'was missed one Sunday morning at breakfast.' The members panicked turning the camp upside down looking for the missing man. 'Very late in the morning, in the midst of their frantic search,' he suddenly appeared walking up the railroad tracks (now Highway 116 / River Road). When asked where he had been, he simply stated: 'I had to go to Mass.' The nearest Catholic Church at the time was in Guerneville." Excerpt from "The Church the Bohemians Built" by Dan Demers.
St. Catherine of Siena in Monte Rio is a mission church of St. Elizabeth Parish, which is part of the Diocese of Santa Rosa. Collections and volunteers at St. Catherine of Siena not only support local charities on the lower Russian River - such as the Community Food Bank operating out of St. Hubert Hall and River to Coast Children's Services - but contributions also are shared thru the Diocese of Santa Rosa for projects operated by the Diocese and Catholic Charities.* Parishioners of St. Catherine of Siena also support the local and regional efforts of the St. Vincent de Paul Society. The Diocese of Santa Rosa extends all the way to the Oregon border.
MASS SCHEDULE:
Currently mass is scheduled on Saturday at 4:00 PM. Please check the website for possible changes.
*Catholic Charities of the Diocese of Santa Rosa serves people of all faiths in the six counties of the Diocese of Santa Rosa - Sonoma, Napa, Mendocino, Lake, Humboldt, and Del Norte. We touch the lives of over 76,000 men, women, and children from Sonoma to the Oregon border with more than 20 different programs of service. Rated 4 out of 4 stars by Charity Navigator.
St Elizabeth
14095 Woodland Ave., Guerneville, CA 95446
Copyright &copy 2023 ChurchTrac Software, Inc.